Aaron, 39, from Falmouth received an Advance Payment grant for his car with hand controls. This helps him travel to all his basketball commitments. This is Aaron's third car through the Motability Scheme. 
Driving is now worry-free for Aaron
"Although I have had two cars previously on the Scheme, I also got a grant for hand controls with this one, meaning I can drive without worrying about my feet moving around the pedals.
"I have a neurological condition called hereditary spastic paraplegia (HSP) so my brain doesn't send signals to my legs properly.
"The backs of my legs are tight and my muscles don't know when to switch off. It is a genetic condition. My brother has it and so does my son."
"Wheelchair basketball...brings a smile to my face"
"Because I have a degenerative condition, I am conscious it will get worse, but you have to come to terms with it.
"I used to play basketball when I was what you might call 'able-bodied', but, at 18, I was 6ft 6 and couldn't run anymore. When I joined my brother playing wheelchair basketball one day, I knew I'd found my sport again. It brings a smile to my face.
"Having a passion is so important. I play for fun locally, but the more competitive league I'm aiming to join in Plymouth is over an hour and a half's drive. You train for two hours and drive back. It's a big commitment."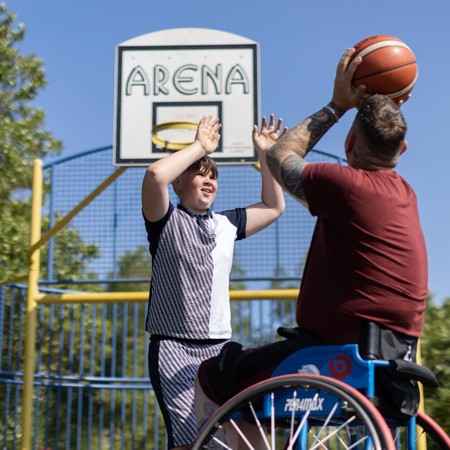 "With wheelchair basketball, you benefit from having your own specially made sportschair, but you need a decent sized car boot to transport it all.
"Most of the time I'm taking two wheelchairs about: one for sport and one for pottering, I need to be able to swap. That's why I was thankful to get a grant for a bigger car."
"The controls have helped tenfold"
"I'm a quality control technician - a product checker for printed circuit boards. I use my car every day to drive to work. Although it's only a ten minute journey, it's up hill so the only way I can travel. The controls have helped tenfold, not just for me and my confidence, but practically, too.
"Before I got my first chair around five years ago, I used crutches. Going to new places made me anxious because I wouldn't know how far I'd have to walk to facilities."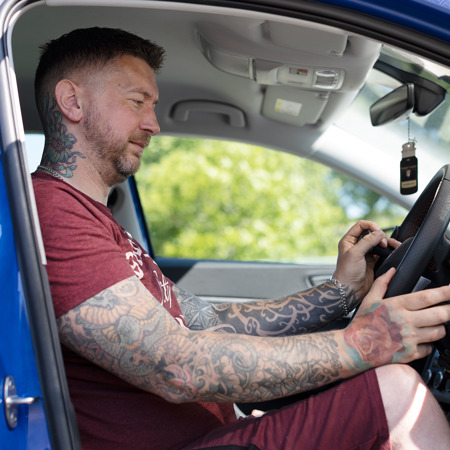 "I am so thankful for the grant"
"I can just jump in my car and take the kids to school, go on family holidays whenever we want, or take my son to his medical appointments. It's important for me to be a role model to my son and show what you are capable of achieving.
"I am so thankful for the grant for a bigger car and hand controls. Motability Foundation arranged two, two-hour driving lessons to get the hang of them.
"It's made a huge difference to my freedom. I can now do everything in my own time, on my terms."