Lucas is a fun-loving 11-year-old boy. He enjoys local day trips with his family and travelling further afield in the wheelchair accessible vehicle (WAV), for which the family received an Advanced Payment and adaptations grant from the Motability Foundation.
"Before we got our new vehicle, we were trapped in the house"
"Lucas loves rollercoasters, loves going to Alton Towers - he's an adrenaline junkie," says his dad, Andy. "He loves anything that spins him around. He likes going to the beach, messy play, anything like that. But before we got our new vehicle, we were trapped in the house a lot of the time."
Lucas has epilepsy, CNKSR2 and global developmental delay. "He requires 24/7 support for all aspects of care," explains his mum, Becci. "When we applied for his Blue Badge we were told we could apply for a Motability car too."
When the family received a grant for the Advanced Payment of a highly adapted wheelchair accessible vehicle, it significantly improved their quality of life.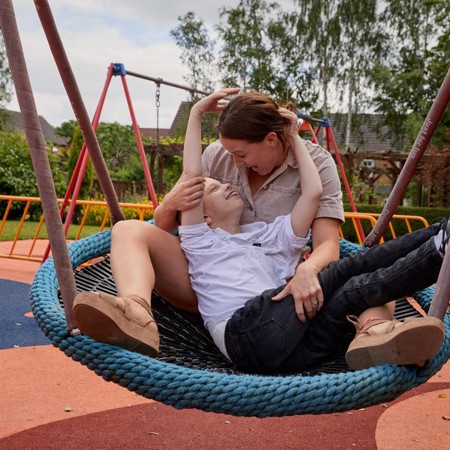 Overcoming obstacles
"The world outside is not set up for disabled children," says Andy. "Through the Motability Foundation, we have been able to get an adapted vehicle, so we aren't confined to the house."
"We have a lot of equipment to take on day to day journeys," says Becci. "And we struggle to find places that have suitable changing places now Lucas is too big to fit on the baby changing stations. It is unhygienic and undignified to change him on the floor of a bathroom, so this vehicle is perfect for us with a chair that folds down into a changing bed."
With inbuilt overhead storage for medication, personal hygiene and feeding equipment, Lucas' family and carers can confidently meet his needs anywhere they go.
"Moving and handling him can be complex, as he likes to be wriggly," says Andy. "We have a hoist to move him safely, blacked out windows so that no one can look in when we are changing him, and air conditioning in the back and a heater, because Lucas isn't able to control his body temperature."
"Motability Foundation have gone above and beyond for us, putting in all the little essentials we need in case of emergencies," says Becci. "Now that we have a van big enough, we always have his standing frame and walker in the van ready for when we go on our day trips."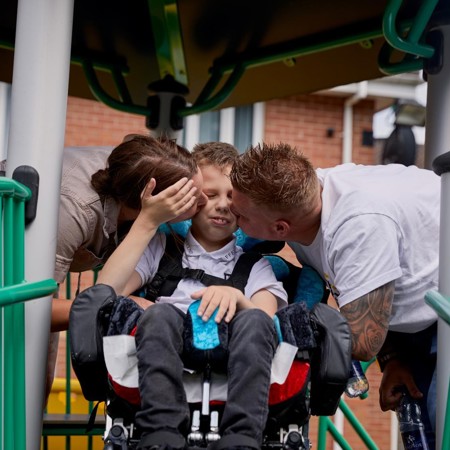 "Motability Foundation has transformed our lives with this vehicle."
"We are an outgoing family. Family means everything to us – as my tattoos say," says Andy. "Cassie [my daughter] gets the tough end of the stick because a lot of our lives revolve around Lucas, but she is so loving and caring to her brother. She's always the first to pass his toys or comfort him if he's sick.
"We are all about making memories - day in, day out. Whether that is going to the park, the beach or local centres like the Douglas Macmillan Children's Centre and using their facilities.
"Without the new van, we couldn't go on day trips, we couldn't go on holiday. We couldn't make simple hospital appointments. Life is so much easier. We have space to bring carers with us."
Andy concludes: "Life is hard, there are no 'ifs' or 'buts' about it, but we could sit here and moan or we can keep on moving forward, doing everything we can with the limitations we have. For us, it's 'make the most of today because you don't know if you have tomorrow'.
"All you can do is focus on the positives. Life is tough but if you let it stop you, you would never do anything or go anywhere.
"Motability Foundation has transformed our lives with this vehicle."