Poppy, age 5, lives in Surrey with her brother Liam, 15, and mum, Kim.  The family received a grant from the Motability Foundation towards their wheelchair accessible vehicle (WAV) to support Poppy, who has spinal muscular atrophy type 1, scoliosis and contractures. 
"Little Miss Independent"
"Poppy is smart, funny and creative: Little Miss Independent, she is - strong willed and very opinionated," says Poppy's mum, Kim. "She goes to the local mainstream primary school, which is just five minutes up the road, although she mainly sees it as a place to socialise. She has lots of friends!
"For Halloween, she dressed up as a witch to go trick-or-treating. She loves anything like that. Always putting make-up on herself, doesn't need me to do it. She loves getting out there, getting involved with it all."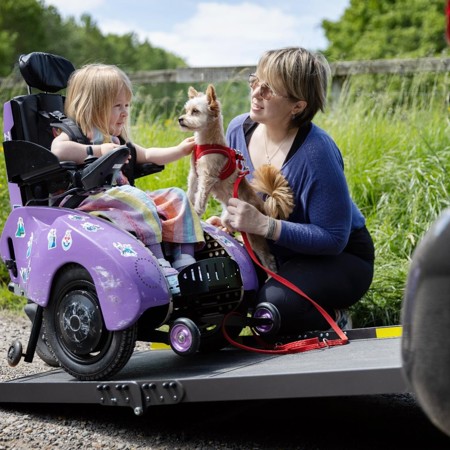 "While out and about, my daughter feels in control of everyday situations."
After assessment, Poppy received a Motability Foundation grant for the Advanced Payment of a WAV with adaptations.
"The vehicle has made a huge difference to my daughter. We are able to transport her powered wheelchair everywhere we go now, allowing her to have more independence. This has enabled her confidence to grow, and she feels more in control in everyday situations." says Kim.
"Most of the time it's just me, Poppy and her big brother, Liam, travelling around. She goes in a car seat, and I put her powerchair in via the ramp at the back. Poppy has a close relationship with her brother, they really look out for one another, but they also tell each other off and wind each other up perfectly. We have a lot of medical appointments," says Kim. "And for as long as we are connected to Great Ormond Street Hospital, I will always be driving into London.
"The grant from the Motability Foundation included vehicle adaptations such as a rear end ramp and tinted windows. Poppy has sensitive eyes so the darkened glass helps with light, but it's also ideal for those times when you need a bit of privacy, like a nappy change."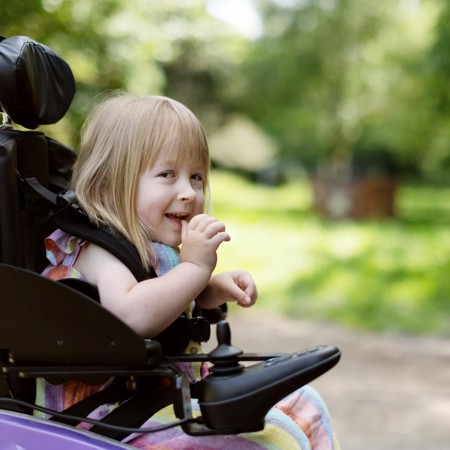 Out on the road 
"Now when we go to Great Ormond Street Hospital we can put the powered chair in the van and it's a life changer. Even going places locally, it's perfect. It gives her that independence she didn't have before. Previously, we had to take her in a pushchair, but it was too restricting. Now, when she is out, she is in control.
"The vehicle allows us to safely transport all of Poppy's medical equipment - and there is a lot required when we stay somewhere overnight, away from home. Without it we would be reliant on hospital transport and public transport, which isn't always suitable or reliable.
"From what we were told to expect, to where she is now, the fact she is smashing it with her independence, is just amazing," says Kim. "Poppy is a little sweetheart. Everybody loves her to bits."